Co-founder & associative team member
An artist-run-Café-Bar (Ana Conda am Ufer), a Lab and a Residencystudio are currently being developed in the southern wing of Ufer_Studios, a culture complex dedicated to live arts in the Berliner district of Wedding. The initiative is hosted by a newly created culture association: neue häute e.V., and co-funded by Stiftung Deutsche Klassenlotterie Berlin.
Project launch coming soon!

currently the renovation works and opening of our space are delayed due to COVID-19
we will fully operate from September 2020
---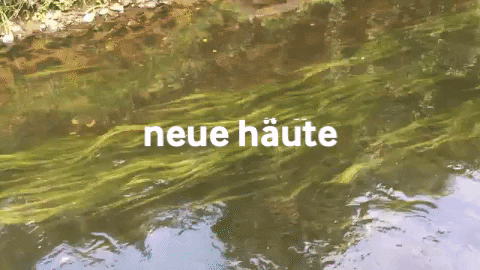 ---
about neue häute
neue häute is a Berlin collective of artists-curators from Spain / Germany / Ireland / Poland: Diego Agulló / Silke Bake / Sheena McGrandles / Paz Ponce / Jo Vávra.
We are developing a cooperative interdisciplinary place in which a café-bar & LAB & residency studio are interwoven as places and as practices: choreographic-artistic work is localized, a wide variety of public spheres are created.
Under the motto: sharing of infrastructure – sharing as infrastructure, all spaces in the house are run cooperatively, aiming to support independent production locally, from alternative models of consumption, to self-organization, care & feminist politics and interdisciplinary collaborations focused on process-based practices and practice-based research.
Our collective operates through the development of biannual thematic process-based research strands. The first one being: Local Affairs (2020/21).
The events produced by neue häute will be accompanied by different educational and participatory formats, engaging a variety of publics in the co-creation of different forms of knowledge production.
core team
Diego Agulló's practice operates in the intersection between education and art, dilettantism and professionalism and it covers different media such as dance, performance, essay writing, publishing books, video art and laboratories for research.
Silke Bake is a curator, dramaturg, and mentor. Together with colleagues, artists and institutions, she develops thematic programmes, discussion and research formats in the field of performing arts.
Sheena McGrandles is a dancer and choreographer living in Berlin working in different contexts such as theatre/stage, education and independent art and culture projects. Further she works on the development of new interdisciplinary platforms and formats for the independent scene in Berlin.
Paz Ponce is an independent culture producer, writer & researcher involved in alternative education and cultural cooperation between Asia, Europe and Latin America. Her practice is oriented towards the development of co-creation formats that she calls "dramaturgies of participation", investigating the collective context in which art is produced and mediated, with a special focus on self-organization, culture of cooperativism and biographical research.
Jo Vávra is an artist and cultural producer. Her recent practice is centered around the meal, using food, sculpture, storytelling and immersive design as mediums. She is a creative chef and restaurateur, founder of Jojo's Seaside restaurant and art residency in Fonte da Telha, Portugal.
---
our space
contact
/ Organization
collective@neuehaeute.org
/ Ana Conda am Ufer Artist-run Café-Bar
ACAU@neuehaeute.org